Following his first (and convincing) experience as head coach at the wheel of Hartford Athletic which he qualified for the Playoffs of the USL Championship for the first time in his young history, Ettachkila invites the African champion to the 105 capes, former prolific Premier League player and illustrious defender of Esperance Sportive de Tunis for an exclusive interview around several themes ... Key words: method, resilience and ambition.
A 2019/20 season marked by trauma and adaptation
After a relatively instant career change in England where he coached at the Southampton Football Club Academy (one of Europe's best youth academies), first as an assistant coach, then as the U23 head coach, Radhi Jaidi decided to get out of his comfort zone and try something new but risky—Becoming the head coach of the modest and fairly nascent USL Championship franchise, Hartford Athletic, for one season.
He packed his bags to Connecticut at the beginning of the year but as soon as he settled down, started preparing for the season and getting ready for his family to join him stateside, the Covid-19 pandemic changed everything. We caught up with him to talk about this extraordinary year.
Ettachkila : You had to deal with a unique situation for yourself but also for some of your players who couldn't see their families. How did you deal with everything at that time ?
Radhi Jaidi: I had to focus on everyone's mental health, me included. I used many tools linked to stress management. I started with a total scan of the situation. A check-up of sorts… Of myself and my environment… I looked at how I can adapt. I planned certain activities after I made a list of what was negotiable and what wasn't. I created a daily routine—a workout regimen, a specific diet, regular check-ins with the people I wanted to stay in touch with…
Ettachkila : Was there any pushback from the players ?
Radhi Jaidi: Not really, but some players can easily feel left out in these situations. My job was to keep their mental engagement at a high level. That comes through fluid communication with the players but also through tactical empowerment. During the lockdown, to help them better understand our 3-5-2 tactical system, I tasked some of our players with watching RB Leipzig's games under Julian Nagelsmann's coaching. I specifically asked them to focus on the players who play their positions and review their performance. For instance, a midfielder would evaluate the player's passing and covering… I finally tasked them with reviewing their own performance and working on their weaknesses to fix them. This exercise helped keep the players engaged while improving their comprehension of the tactical system.
"When the whole world stopped, Hartford surprised everyone. But for me, that wasn't a fluke, because we worked really hard to get there."
Ettachkila : How did you get out of this experience ?
Radhi Jaidi: I was able to assert my leadership by giving clear guidelines to follow. I knew what we would do from Day 1. That being said, we're talking about things in hindsight. I have to say, it was a tricky situation and its psychological impact is undeniable. I had to deal with being far from my family. Not only family members in England, but also those who lived in Tunisia. You can be as strong and resilient as they come, there will always be moments where things become hard to handle. This is why mental health is crucial for a coach and I was able to count on my mentors and my wife support.
RJ 15, an American climb…
Within a 10 year time span where he went from being a Southampton player to becoming coach, the most English Tunisian footballer of his generation who also happens to be a fan of basketball and American music, decided that it was time for him to take the helm of a senior team when the Hartford offer came his way. Together, we went over the differences between these experiences.
Ettachkila : What was the difference you found between coaching in the US and coaching in Europe?
Radhi Jaidi: Beyond the cultural and historical differences, the American championships in the MLS and USL Championship have no promotion and relegation system. This has created an easy going attitude for American players who might not feel the need to give their 100% in training. At the same time, in Europe and Africa, football is a life or death situation where people do everything in their power to influence a game or a referee decision. I am very demanding and it was obvious for me that we needed to change that mentality starting from our training session. I made sure that my players have high expectations of themselves whether we were playing a game or just training. This was all done to reach that conqueror mindset for the team and everyone involved with the club.
Also, in US sports, community is very important and gives leverage for growth for smaller franchises. Take for example Alfonso Vazquez. A young Hartford player with many qualities who came from a local college and who, after three tryouts, found himself with the pros. Same for Conor McGlynn, a local without experience who ended up playing every game in this season. These stories are inspiring to many kids from different racial backgrounds who sometimes can't pass through the complicated web created by the system. Hartford Athletic could even become THE training ground for all of Connecticut.
"There are still many challenges for US soccer. But if some laws are changed, the stakeholders will change and the system will change too. The potential for growth is still massive especially with the 2026 World Cup in sight"

Radhi Jaidi
Ettachkila : What were the results of this experience with Hartford ?
Radhi Jaidi: The season was promising compared to last year's (A 65% winning percentage with a +7 goal difference in 16 regular season games vs. a 23.5% winning percentage and a -34 goal difference in 34 regular season games before Jaidi's arrival). There was a lot of forward-thinking work. The historic qualification to the playoffs while leading Group F was a real achievement when you take into consideration the modest capacities and structure that the club has.
Ettachkila: And what are the future opportunities for the club ?
Radhi Jaidi: Hartford has now a lot of business opportunities thanks to their playoff exposure. The club is now closer to other regional powerhouses like the New England Revolution, or the New York Red Bulls… If Hartford almost tripled its valuation, it's especially thanks to the staff and the players. We believed in our chances and had a fantastic season. The club can now build on this season which will bring a lot of intangible returns in terms of branding and investment opportunities.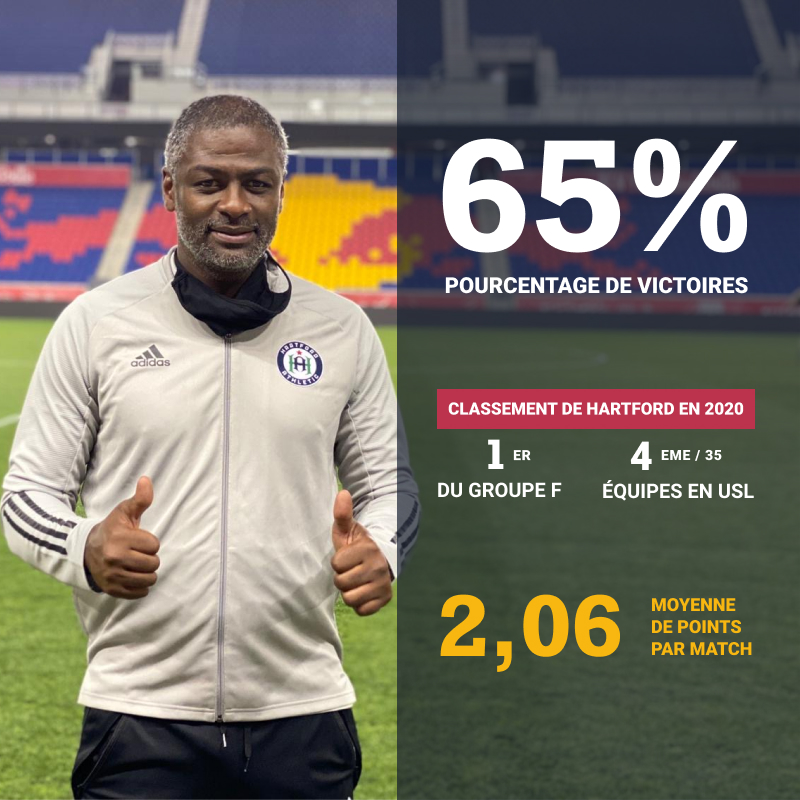 Radhi, the coach & the man
Radhi Jaidi, the coach, who is all about mental preparation and an ambitious playing philosophy has observed and learned for a long time from the best coaches in the world. He doesn't hide his influences but wants to bring to the world his own brand of coaching.
Ettachkila: Which coaches have inspired you and which system(s) do you prefer ?
Radhi Jaidi: I learned a lot standing next to coaches who were also creative leaders but I remain a big fan of the flexibility and pleasant-to-watch playing style of Pochettino. I also like Mourinho's winning strategy, and Ralph Hasenhüttl's attention to details (Editor's note: Hasenhüttl is the current Southampton coach that Jaidi worked with for a year and a half.). Hasenhüttl's players know exactly what they need to do and learn a lot from him. Finally, I have a lot of admiration for Julian Nagelsmann. His style, his audacity and his capacity to influence both owners and players inspire me a lot. With him, RB Leipzig plays sometimes with brand new systems. 3-3-3-1, 4-2-2-2 or a narrow 3-4-2-1 but always with a lot of aggression, high strong pressure and never giving up the ball to the opponent.
This doesn't mean that I don't have my own style and personality. My philosophy? I want my teams to resemble me by taking risks and playing ambitious football. If I adapt myself to the quality of the players to help them develop themselves, I need them to be the embodiment of that philosophy based on modern football principles with a lot of intensity regardless of having the ball or not.
"Observe, Challenge and Support" – The Jaidi method
During my stint at Hartford, I put together a work method that helps players better perform through setting objectives for their output. The night before training or games, I get in touch with my players to make sure that they're totally committed for tomorrow. These exchanges are short but global. They help evaluate but also bring necessary support if a player has a lack of confidence. I developed this proximity since my first steps with the youth of Southampton. Listening and setting clear expectations are important in managing a team and I try to get the most of that.
Coach Jaidi as seen by his players

Éver Guzmán, the Mexican veteran and Hartford fan favorite who ranked second in most goals and most assists in 2020 says:
"The coach's work was very important to our success this season. His high expectations and focus at every training helped the players never give up even in tough times. Starting from Day 1, he gave me all of his confidence. In my playing style, I like attacking while pressing and that is part of the coach's playing system. It gave us a lot of positive results.

Ever Guzman
When asked about Jaidi, The Congolese international goalkeeper from Hartford, Parfait Mandanda (former player at SM Caen) stated that
"The work done by the coach was exceptional when you take the Covid-19 context we were in. The clear ambition to qualify the club to the Playoffs and the achievement of that objective are two memorable points for the young players and for the club's history.The coach taught me a lot about dual planning on both human and sporting dual levels. He marked me a lot in the way he managed the group: he constantly seeks to understand his players and is always attentive. In addition to his international experience, he has brought a lot to every component of the club (players, supporters and management). For me he is a very great coach« 

Parfait Mandanda
And to Colombian-born captain Daniel Francisco (known as Danny) Barrera to conclude about Jaidi:
" Radhi's work with Hartford Athletic has been incredible. He immediately implemented his philosophy in a very professional manner, starting by evaluating his players, then making a very clear plan for everyone and, finally, demanding execution. His management style, which is both demanding and benevolent, allowed him to get the best out of the team. The coach managed to take a young group living their second year and coming out of last place the year before, to the top of the table and to the Playoffs. I think everyone has learned a lot from him and kept valuable life lessons. Personally, he showed me how to properly execute a structured game plan and shared with me a number of valuable tactical tips. « 

Dany Barrera
A hard worker, Radhi Jaidi embodied the Tunisian exception with great longevity (He left l'Espérance to join the Bolton Wanderers in the Premier League at 29 years old during the 2004/05 season). Born in Gabès, avid reader, very close to his family, he developed his game and never stopped progressing whether as a player or a coach. He opens up to us about what built Jaidi, the man.

Radhi Jaidi: My story is long, I suffered and made a lot of sacrifices when I went from Gabès to l'Espérance to show my new entourage that I was a solid defender. I met great people like the late Hedi Berrkhissa who I stayed with after training to play basketball. We talked about music. I'm a fan of Hip-Hop and R&B. He was a Rock fan. On a human level, the first milestone was my daughter's birth in 2002. Being a father is an indescribable feeling. You feel like you're on cloud nine…But it also made me more responsible. I asked myself how can I be a good father for her, how can I make sure she's all set for the future.
A life mission…
The second milestone was the realisation, at Bolton, of the role that I can have on a bigger scale. In fact, when I arrived at the Wanderers, (Editor's note: nickname for Bolton's players) they made me sit for a psychometric test. I just saw Hidetoshi Nakata and Jay-Jay Okocha at the club's facilities and I was not used to these kinds of tests. It was my first time. The questions were about things like your behaviour in a stressful environment. After I received my results by topic and situation, I discovered the day after, when I opened my locker, a photo of myself and a sentence that read: "Fulfilling people's dream." I was a little confused. After some time I asked the club's psychologist what it meant. He said: "When you were talking to me, you were very moved and influenced by your country. You are the first Tunisian to play in the Premier League. You fulfilled the dream of a country.
From there, I understood that I was connected to something bigger than myself. Something that gave meaning and a goal to my work, and I decided to act like an ambassador to my country even though I believe I can do more in that sense to help others.
Ettachkila : We know that you're socially active especially when it comes to racial equality and the Black Lives Matter movement. What changes are you pushing for ?
Radhi Jaidi: When something so powerful shakes the world, institutions need to be more transparent and more ethical when it comes to everyday life choices (like social interactions, or selection criterias in interviews for instance) and, especially, when it comes to legislation and legal decisions. There should be no tolerance to racism nowadays… If the decision makers have started to react, we're waiting for a lot more from the institutions. I would like to also salute the important decision that the Egyptians of Al-Ahly SC took, which consisted in hiring the South African and former Bafana Bafana coach Pitso Mosimane. That's a step forward.
Ettachkila : Can we see another Chris Hughton at the top of a Premier League team? Have you started preparing for your own interview ?
Radhi Jaidi: Getting ready for interviews and "selling" my profile in front of a club board are indeed some of the points that I've worked on quite a lot. I think that I have the ambition and the winning spirit to reach that level. I'm noticing, for instance, that Germans are more willing to take a chance on coaches with no major experiences. But with more Premier League CEOs willing to give an opportunity to Academy coaches, I hope that something will come up for me.
Ettachkila finally asked Radhi Jaidi some more introspective questions who answered in all seriousness and joy
Ettachkila : What gets you out of bed in the morning ?
Radhi Jaidi: My family always gives me the motivation to keep moving forward.
Ettachkila: What happened to your childhood dreams ?
Radhi Jaidi: Some are ongoing, others have been updated.
Ettachkila: What do you refuse ?
Radhi Jaidi: Lack of respect.
Ettachkila: What did you give up ?
Radhi Jaidi: Silence and acceptance.
The making of this interview
Locations: Between Southampton, Paris, and Tunis thanks to WhatsApp
Interview length: 2h15 (and the network quality matched that of Tunisie Telecom)
Languages used: Darija (Editor's note: Tunisian dialect) and French with regular zests of English
Other people present: His daughter in the background for a couple of minutes ( He went to pick her up from her dance lessons)
The question we forgot to ask: What's the common thing between Khaled Badra, the FA Cup, and St. Mary's Stadium? (The three of them have seen a Radhi Jaidi goal up close)
The grade we wll give him for this interview: 15/10 for his undivided attention and because he's RJ15.
Interview conducted by Walid Helali & Khlil Zariat
Many thanks to Chamsseddine Abdelhafidh for translating the interview